The Murder on the Links

by Agatha Christie
Series: Hercule Poirot #2
Published by William Morrow on November 23, 2004
Genres: Classic Mystery/Suspense
Pages: 240
Source: Purchased: ebook
Buy on Amazon

An urgent cry for help brings Poirot to France. But he arrives too late to save his client, whose brutally stabbed body now lies face downwards in a shallow grave on a golf course.

But why is the dead man wearing his son's overcoat? And who was the impassioned love-letter in the pocket for? Before Poirot can answer these questions, the case is turned upside down by the discovery of a second, identically murdered corpse . . .
I realized this year that I have never read this book. I could have sworn I had since I did my Poirot readings a few years back, but then realized nope that I must have confused this book with another. Either way, I am thrilled that I got a chance to immerse myself back into the world of our egg-head shaped detective and his "little gray cells."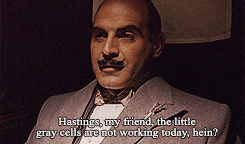 Told in the first person POV by Hastings (Poirot's mostly bumbling and honestly dumb as anything assistant) in this one. We have Hasting and Poirot go off to investigate after Poirot receives a letter from a Monsieur Paul Renauld. Renauld believes he will be murdered and asks for Poirot to come as quickly as he can. However, when Poirot and Hastings arrive, they find the police on the scene since Renauld was found murdered and his wife bound by unknown attackers.
We have Poirot getting into a mental pissing match with another detective named Giraud who hates Poirot and seems him as old and outdated. I did want to shake Hastings a bit here and there since he wants Poirot's deductions to be correct since he doesn't want Poirot to look foolish which would mean he would look foolish. Speaking of Hastings, he falls in love at first sight with a young woman he calls Cinderella. I hope you like that name, because she is referred to as such throughout mostly the entire book. We even have a connection to the murder and we have Hastings acting a fool (IMHO) cause of love. I don't know. I may be heartless, but if I think you committed a crime I am going to get the heck away from you.
This is not one of Poirot's locked room mysteries, but it does leave a lot of intrigue into who killed Renauld and why. Also I have to say that once again I was totally in the dark about who the villain was in this one. I guessed wrong (twice) and just gave up on who dun it until Poirot revealed all.
The ending in it's own way had a HEA which surprised me.