The Birds and Other Stories

by Daphne du Maurier
Published by Brown and Company on January 1, 1952
Genres: Classics - by women, Gothic, Mystery
Pages: 256
Source: Borrowed: ebook
Goodreads

A classic of alienation and horror, The Birds was immortalised by Hitchcock in his celebrated film. The five other chilling stories in this collection echo a sense of dislocation and mock man's dominance over the natural world. The mountain paradise of 'Monte Verità' promises immortality, but at a terrible price; a neglected wife haunts her husband in the form of an apple tree; a professional photographer steps out from behind the camera and into his subject's life; a date with a cinema usherette leads to a walk in the cemetery; and a jealous father finds a remedy when three's a crowd . . .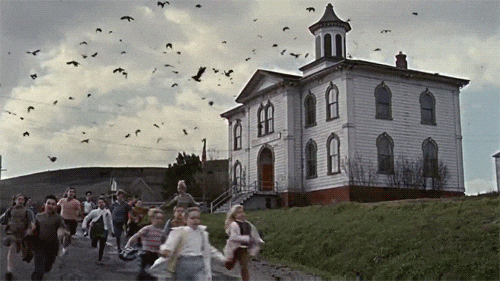 Nope, nope, nope. Nope. How many nopes is that? Anyway, nope. Seriously though, you have to hand to Daphne du Maurier, she definitely knows how to tell a story. And in this case, several stories. I read another one of her anthologies this year and thought what a great weaver of tales she was.
There are six stories in this collection and they pack a punch, but my favorites hands down were "The Birds", "The Apple Tree", and "The Old Man."
The Birds (5 stars)-Unlike the Alfred Hitchcock movie that many are familiar with. This story is actually a lot more dark (yeah who knew that you could go darker?) than the movie I think. The story revolves around a family living on their farm where the father realizes that something odd is going on with the birds. And once it becomes apparent that people may be under attack, he does what he can to keep them safe.
Monte Verita (3.5 stars)-Oh boy. This was endless. And not in a good way. It started off oddly and then it smoothed out, and then I was bored and wanting the book to end as fast as possible.  A narrator describes a place called Monte Verita and wondering if it still exists. We realize he is in his dotage and then the story reverses itself to talk about how the narrator and one of his best friends loved to climb mountains. I really thought what he was describing in this story was hiking, but what do I know. The most camping I do these days is sitting outside on my patio drinking wine.
Then the story changes again to how his best friend meets a gorgeous mysterious woman who he marries (are they always not gorgeous and mysterious?) As I said the story was endless and for me I did not really get much about this supposed calling. The ending to this story made me just roll my eyes. I think I was supposed to be taking away something bigger than what I got here, but I just don't know what it was.
The Apple Tree (5 stars)-What a sad story from beginning to end. You honestly think the story is going one way, but then it twists and re-twists itself.  We find a widowed man who is now pretty content since he is retired and his wife is now dead. Don't worry readers, he didn't kill her physically. But you start to read more and more of the story and you realize there are other ways in which you can kill the spirit of someone you claim to love. I do not want to give too much away except to say I chuckled at the ending. Which probably means I am a dark person, but I am okay with that.
The Little Photographer (4 stars)-At first I was a bit bored by this story. And then it starts picking up steam. A woman away on vacation with her two small children and her nanny starts to think that even though she may have everything that she could want wealth wise, it still may be a chance to see what else is out there for her when she realizes she is not as fulfilled as she could be. Thinking that a quick affair can cure what ails her leads her down a dark path.
Kiss Me Again, Stranger (3 stars)-A young man who finds himself in love at first sight though I would say he may need to have his eyes checked based on all of the red flags I was seeing. This one ended a bit too abruptly for me. And honestly I was still confused about the whole thing. I guess this was more of a cautionary tale about falling in love with people without knowing a thing about them.
The Old Man (5 stars)-I maybe sort of screamed at the ending and said what a few times and went back and re-read it with the ending in mind. I refuse to give anymore details on this one except I was totally floored.
An overall review of 4 stars since I really only loved three of the stories.