On Second Thought by Kristan Higgins
Published by HQN Books on January 31st 2017
Genres: Romance
Pages: 480
Source: Purchased: print book
Goodreads

Ainsley O'Leary is so ready to get married—she's even found the engagement ring her boyfriend has stashed away. What she doesn't anticipate is being blindsided by a breakup he chronicles in a blog…which (of course) goes viral. Devastated and humiliated, Ainsley turns to her older half sister, Kate, who's struggling with a sudden loss of her own.

Kate's always been the poised, self-assured sister, but becoming a newlywed—and a widow—in the space of four months overwhelms her. Though the sisters were never close, she starts to confide in Ainsley, especially when she learns her late husband was keeping a secret from her.

Despite the murky blended-family dynamic that's always separated them, Ainsley's and Kate's heartaches bind their summer together when they come to terms with the inevitable imperfection of relationships and family—and the possibility of one day finding love again.
The biggest issue for me in this romance was besides there not being that much romance to really sink my teeth into, I ended up disliking one of the story-lines in this book. One of my friends who adores romance has one rule that she never breaks. She hates reading romance books when a spouse either dies during the book or has died before the book. That's because she hates how the authors always either change the backstory of the spouse (ie all of a sudden they had a secret life and didn't really love the wife/husband as initially thought) or she hates how fast an author has them getting over that death. I tend to not mind it that much. Until now. Now I think I may have to add that rule to my romance reads cause I was a bit incensed while reading this book this past weekend.
"On Second Thought" has half sisters Kate and Ainsley having to deal with sudden changes to their lives. For Kate, she gets hit with sudden widowhood to man (Nathan) that she has only been married to for four months. For Ainsely, it's realizing (and God one wonders how she just realizes it) that the man (Eric) she has devoted herself to for almost 12 years is a self absorbed asshat that dumps her in order to figure out his journey. FYI, these are not spoilers, this shows up in the synopsis for the book.

Now per usual when there are multiple characters, there tends to be one that I like more than the other. For me, it was Ainsley this time through. Ainsely reminded me a bit of me honestly. She has to deal with the most surreal upbringing ever (will not go into it here in the review) and due to that has an overwhelming need to belong. Even though a blind man could see that Eric was not about a damn thing she still kept hanging on since he kept telling her that one day they would get married and have kids. It doesn't help that she adores his family and they adore her. I have to say that all the parts with Eric are rage inducing and they will make you laugh, but also make you wish he was a real life person so that you could knee him over and over again in his crotch.
I initially liked Kate's story. I can't imagine being married such a short time and losing your husband like that. But though Higgins goes a different way in showcasing Ainsley's storyline, I don't know why she went for the old you don't know who your husband really is because reasons. I won't go into them here, but I had a hard time not rolling my eyes. I rather have seen Kate interact more at her therapy group since it reminded me no lie of "Go On" and I loved that show on NBC.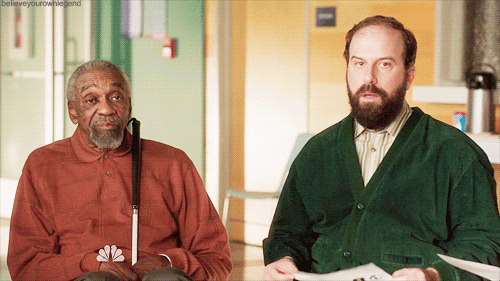 If there had been more of that I would have loved it. Instead we get an entirely outrageous story-line resolution for Kate that I had a hard time with. I maybe coughed "BS" a few times and went happily reading Ainsley's parts.
Higgins does a great job rounding off the other characters in this book. Kate's mother and Ainsley's stepmother was a hot mess. I mean seriously. I would love it if someone made this into a movie or tv show cause I was just floored by these people.
Kate and Ainsley's dad though was not present very much in the book, but you get why when you read the whole story. Kate and Ainsely's brother though was missing a lot, and I didn't get a good sense of him or his family besides the fact he and his wife are doctors and she's African American. I would have loved another perspective in this book from him. It would have maybe rounded it off a bit more for me.
We also get the specter of Nathan (sorry dude, I have nothing good or bad to say about you) and the asshatery of Eric (I swear to you all I have dated this idiot in real life) and also Ainsley's boss who was written very well too.
I loved the writing cause like I said I was cracking up a lot while reading this book and also shrieking. I shrieked a few times. I can't say that I cried once though. Maybe if we spent more time with Kate and Nathan and oh yeah if Kate's storyline didn't take that left turn for me I would have cared more, but instead I just shrugged and went on my way.
I wish I had my book in front of me to add in some hilarious quotes from the book. But I unfortunately left it at home. Honestly just read the sections when Ainsley starts to realize what a nightmare she has been dating for years. I was snort laughing.
The flow was a bit off due to switching to Kate and then Ainsley's POV. I also didn't like how Higgins ended the book and with us finding out about Ainsley via Kate's final POV. I would have liked it if both sisters got their own goodbye to us readers. And as I said before, Ainsley's chapters were so funny to me that things didn't flow back and forth between Ainsley and Kate very well after about the 50 percent mark to me.
The setting of the book is some suburb in New York. I have never heard of it and am too lazy to see if it exists. There is some discussion of Brooklyn a lot though.
The ending of the book ends with Kate and once again I wasn't buying her storyline resolution. I did love how things ended with Ainsley though.