A Crown of Wishes by Roshani Chokshi
Published by St. Martin's Griffin on March 28, 2017
Genres: YA - Fantasy
Pages: 352
Source: Purchased: ebook
Goodreads

Gauri, the princess of Bharata, has been taken as a prisoner of war by her kingdom's enemies. Faced with a future of exile and scorn, Gauri has nothing left to lose. Hope unexpectedly comes in the form of Vikram, the cunning prince of a neighboring land and her sworn enemy kingdom. Unsatisfied with becoming a mere puppet king, Vikram offers Gauri a chance to win back her kingdom in exchange for her battle prowess. Together, they'll have to set aside their differences and team up to win the Tournament of Wishes—a competition held in a mythical city where the Lord of Wealth promises a wish to the victor.

Reaching the tournament is just the beginning. Once they arrive, danger takes on new shapes: poisonous courtesans and mischievous story birds, a feast of fears and twisted fairy revels.

Every which way they turn new trials will test their wit and strength. But what Gauri and Vikram will soon discover is that there's nothing more dangerous than what they most desire.
I needed a fantastic book and I savored this one for two days though I wanted to swallow it whole at times. It lingered with me in my sleep and I smiled when I woke up because I was so happy to just keep reading this book. Chokshi includes Indian myths and also just really great characters that you want to keep reading about. We also get appearances from characters from the last book that I was sad to see go when we finished. I often worry when authors start writing a YA book and write a sequel or decide it will be a trilogy. That's only because not many have held up. This one holds up. I highly recommend.
Spoilers for those who have not read "The Star-Touched Queen."
Readers were introduced to Gauri in the last book. Sister to Maya, we find out that Guari ended up becoming a soldier. We know that Maya was worried about what would become of her sister due to their awful brother Skanda. When "A Crown of Wishes" starts we have Gauri captured by a rival kingdom (Ujijain). She doesn't know what is to become of her, but she is determined to escape and rule her own kingdom, Bharata even if it means killing the Prince of Ujijain. And the Prince of Ujijain (Vikram) longs to be seen as the rightful ruler of his people. He is obviously intelligent and wise, but without the council's blessing, he knows that he would only be a puppet king, and he wants more.
Due to both of them having wishes in their hearts they are afraid to say out loud, these two end up being thrown into a magical journey together, that if they survive, will end up with them winning two wishes if they participate and win the Tournament of Wishes.
Gauri is headstrong but loyal. I loved her from beginning to end. Based on what we find out about her upbringing and what her brother did to those she cared about, it's natural that she is cautious and not trusting with Vikram. But slowly but surely, Vikram warms her heart and she warms his as well. I loved seeing the growth between the two of them and actually laughed out lout at their back and forth with each other, think of Carey Grant and Rosalind Russell in "His Girl Friday" if you want an apt comparison.
Vikram was so good. I was having a book boyfriend crush. And that has not happened in a long time. He was cautious, but ultimately optimistic about everything, Vikram more than Gauri had a lot of hope in him for the future. I did love how in certain ways he was strong and in others Gauri was stronger. I loved that Chokshi made the female character in this book a warrior and the man a philosopher. There is a moment when he says as you wish and I maybe squealed out loud.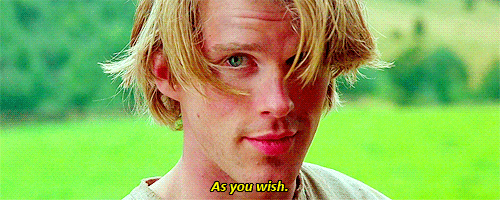 There are too many characters to name in this book, but the most important is Aasha. I loved her and at first didn't get why we were being introduced to her, but slowly that gets revealed. I would love a short story with her in the future, hint hint.
The writing was lyrical and also flowed wonderfully. I honestly have no complaints. I loved the myths that were wrapped in this story and enjoyed looking up all of the words that I didn't understand. My only complaint, my Kindle dictionary did not recognize any of the Indian terms so I had to often go Google on my cell phone and look things up in Wikipedia. In the back of the book is a glossary, that was not as extensive as it should have been. Since I bought an e-book it would have been awesome if the words that were in the glossary were connected to the first time they were used in the text so I could click and go and read and click and go back to my place in the book. Just something for next time for the publisher to think about.
The setting of this book was great. Think of an India that exists in myth and legends. The descriptions of everything made my long for this book in a visceral way. I know that a lot of people were oohing and ahhing over the cover, I would have loved it if this book had included illustrations, I would have probably lost my mind in a good way if we had gotten that. For now, my imagination was enough and I daydreamed about forests that dripped with golden fruit and diamonds, women who wear rivers as dresses, people who when they tell a story a bird flies out of their mouths, and a garden of swords.
The ending was fantastic. No spoilers, except I leave you with this:
"i carry your heart with me (i carry it in

my heart) i am never without it (anywhere

i go you go, my dear; and whatever is done

by only me is your doing, my darling)

i fear

no fate (for you are my fate, my sweet) i want

no world (for beautiful you are my world, my true)

and it's you are whatever a moon has always meant

and whatever a sun will always sing is youhere is the deepest secret nobody knows

(here is the root of the root and the bud of the bud

and the sky of the sky of a tree called life; which grows

higher than the soul can hope or mind can hide)

and this is the wonder that's keeping the stars apart

i carry your heart (i carry it in my heart)"